I honestly meant to to get resident home owners of sq. 552, for the Washington Sanitary Improvement Company. Because I had incorrect info in my own spreadsheet, which I need to clean up, I wound up researching people who were not on Sq. 552 (3rd, Q, 1st, Bates, and P St) but 551. It also means that the spreadsheet on TruxtonCircle.org is incorrect too.
I discovered my accident when looking at the 1902/1903 General Assessment for Sq. 552 for a William Saunders. I found William's wife, Martha Saunders over on Sq. 551, (where Mt. Sinai, the NW Co-op and FL Ave Park sit). She had two lots. She owned, 551 009-Background, and 551 00G.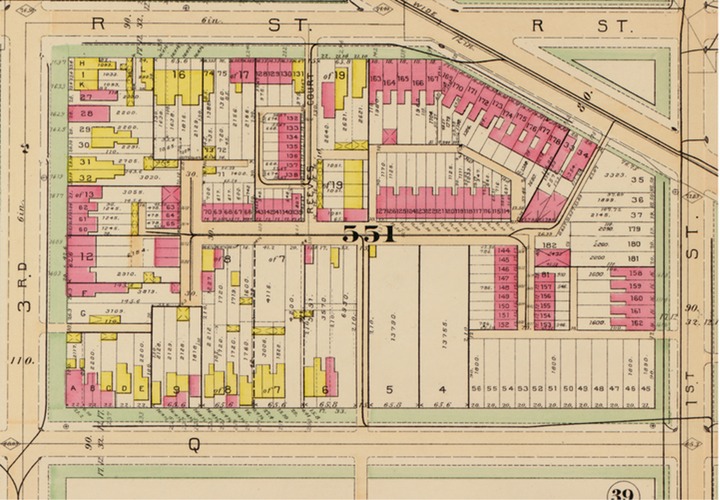 Then it dawned on me that the 1600 block was up one block.
William Saunders was a TC resident, and he has a Wikipedia page (my 3rd TC resident with a wiki) so we have a new blog post.
William Saunders lived at 1603 3rd St NW. According to the 1880 census, he lived there with his wife Martha, and his adult children George W. and Belle. By the 1900 census, it was still him and Martha, and Belle, along with four adult grandchildren with the surname Reeves.
According to his Wikipedia page he "was a botanist, nurseryman, landscape gardener, landscape designer, and horticulturist." He was the United States' chief experimental horticulturalist and introduced the navel orange to California agriculture and America in general.
According to his Ancestry.com family tree (requires sign in from DC Public library) William Saunders was born December 7, 1822 in St. Andrews,  Scotland to David and Christian Christie Saunders. His father was a gardener and he became a gardener as well. He married Martha Mildwaters in 1848 in London, England. A month after his wedding, they arrived in New York City on March 31, 1848 on the American Eagle. He came to America to work as a gardener for a Mr. William Bostwick of New Haven, CT.  Their first child, David was born January 16, 1849 in New Haven. Their daughter, Flora Christina, was born in 1850 in Clifton, MD. Then George William in 1853 in Baltimore, followed by Allen Kelloway (1857) and Belinda Catherine (1859) in Germantown, PA. A 1867 and 1869 city directories listed him as living in DC, on Q between 3rd and 4th Sts.
As you can see from the title, William died in 1900 on September 11th. He died at home at the age of 77 after many years of working at the Department of Agriculture and keeping their grounds.