In all honesty, I have zero to negative interest in these two women, so let me just get through this.
At some point in time between 1903 and 1909 the Washington Sanitary Improvement Company (WSIC) purchased lots from these women so they could add Sq 552 to their project. Mary Clarice Eustis owned lots 15-23, and Louis Eustis Hitchcock owned lots 9-14 and 24. I'm going to guess these were nothing more than investment properties for them.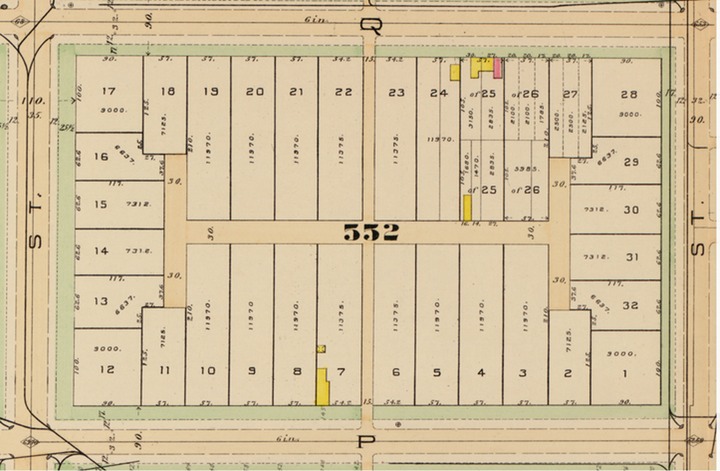 Who was Marie Clarice Eustis? Marie Clarice Eustis Hofmann was born Marie Clarice Eustis in New Orleans in 1866, if I have the right woman. She was the daughter of Senator George Biddle Eustis and Ellen Buckner Eustis. In 1887 she married her 1st cousin (ewwww) George Peabody Eustis Corcoran, the brother of Louis Eustis Hitchcock. They divorced and in 1905 she married Polish pianist, composer, and inventor Josef Hofmann. They divorced in 1924. She eventually died in 1956 at the age of 90 in Aiken, SC.
Her cousin Louise Marie Eustis was born in Cannes, France in 1867 to George Eustis and Louise Morris Corcoran Eustis (daughter of WW Corcoran of the famous Corcoran Gallery). She married polo player Thomas Hitchcock Jr in 1891. They both loved horses. They had four children Celestine E. Hitchcock Peabody (1892 –1935), Helen Louise Eustis Hitchcock Clark (1898–1979), Thomas Hitchcock (1900–1944) and Frank Center Eustis Hitchcock (1908–1957). She died in an accident in 1934 in Aiken, SC at the age of 66.