When looking at the General Assessment for 1902/1903 one of the biggest property owner for the block bounded by 3rd, Q, 1st and P St NW, Sq. 552, Wm. R. Riley, not the Washington Sanitary Improvement Company (WSIC). WSIC's time will come later.
William R. Riley owned lots 1-2, 4-6, and 29-32.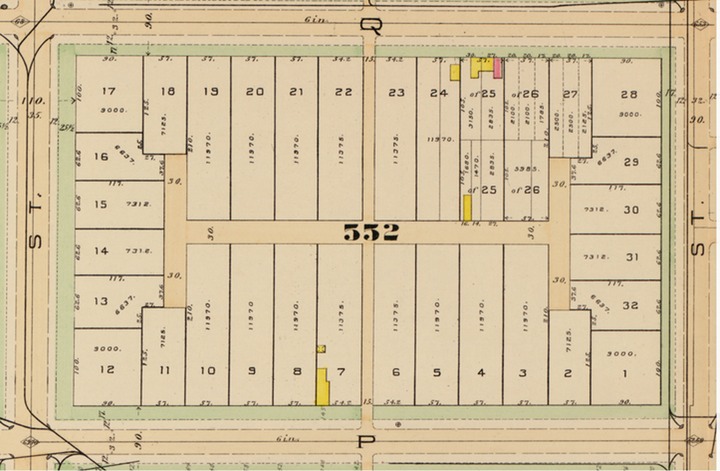 Who was William Robinson Smith Riley? He was born July 19, 1817 in Appomattox County, VA and died in DC on January 15, 1893.
According to his obituary published in the Evening star. January 16, 1893, page 6:
William R. Riley Dead
A Well-Known Citizen Expires After a Short Illness
In the death of Mr. Wm. R. Riley this city loses one of its substantial citizens. His death occurred yesterday at his late residence, No. 7 Iowa Circle [Now Logan Circle]. Mr. Riley had reached the advanced age of seventy-five years. He was, however, a man of active habits, and while not exactly vigorous, yet he was seldom ill. His last sickness lasted only six days. On Monday just a week ago he was taken sick in his office in the Riley building, 9th and E streets. He was removed to his residence and by Thursday pneumonia developed which resulted in his death at 1 o'clock yesterday.
He had planned to leave for Florida today where his wife was staying. Mrs. Riley was at once informed of the illness of her husband and reached home Saturday morning. Mr. Riley had spent practically all his life in this city. He came here with his father from his birthplace in Accomac, Va., when only four years of age. When quite young he entered a dry-goods' house as a clerk, and when still a young man he became the owner of the store in which he had started in life as a clerk.
The same business ability which marked his early career enabled him to amass a considerable fortune. He was identified with a number of the substantial business enterprises of the city.
He was the founder of the Arlington Fire Insurance Company, and a director in that company at the time of his death. For a number of years he was one of the directors of the Washington Gas Light Company. He established the West End Bank and until recently was the president.
He was a member of the old city council, was connected with Columbia Lodge of Odd Fellows, and was an active member of Ascension Church.
Six children survive him, two sons and four daughters.
The funeral services will be held at the Church of the Ascension Wednesday morning at 11 o'clock, and Rev. John H. Elliot will officiate. The interment will be in the family lot in Congressional cemetery.
Another source of who he was, was a write up in the March 22, 1890, p. 8  Evening Star :
President Riley

Mr. Wm. R. Riley, the president of the West End national bank, has been so long connected with Washington and the business interests of the city that he stands in no need of an introduction here. For many years Mr. Riley has occupied a place in the front ranks of representative business men and his name has been connected with almost all of the movements looking to the advancement of the city and its general welfare. He was not born in this city but in Virginia, though his family came here when he was seven years of age and he has made this his home ever since. He was educated in the schools of tho District, though his schooling did not extend over a very large number of years. When he was still quite a boy he entered the dry goods business with Anthony Holmead, who was a prosperous merchant a half century ago. As was largely the custom then, Mr. Riley made his home with his employer, but he left when he was of age to go into business for himself at the northeast corner of 8th street and Market space. He afterward moved to the center of the block, where he remained until about twelve years ago, when he built the Riley building at the corner of 9th and E streets.
Recently he built a handsome residence on Iowa circle and retired from active business altogether, intending to devote himself simply to his various interests. He had no intention then of entering the  banking business, but he was waited on by a committee from the new bank, who requested Wm. to take charge as its first 1st president. This he finally decided to do. In antebellum days Mr. Riley represented the seventh ward in the city councils for a number of years. He was one of the originators and is now a director in the Arlington Fire Insurance Company and is also a stock holder and director in the Bank of the Republic. He has been a director in the Washington and Georgetown Railroad Company for the last fifteen years and for the last ten years a director in the Washington Gas Light Company. He was also one of the organizers and is now a large stock holder in the Corcoran Fire Insurance  company. In matters spiritual Mr. Riley is a member of the Episcopal church and for a quarter of a century he has been known as one of the firmest pillars of Ascension church.
If you want a reason to dislike him, he owned 3 people. In the 1860 Slave Schedules his name is associated with the unnamed people, two of considerable age, a 60 year old man and a 65 year old woman. The other person was not particularly young, being a 45 year old man.
So by the time of the 1902/1903 General Assessment Mr. Riley is very dead, but his name was still on the land. He did not mention these Truxton Circle lots in his will, and he had several properties in and around the TC, but he did mention properties that housed various family members. I can guess there was no emotional ties to the properties so it wouldn't have been too hard to strike a deal with Mrs. Elizabeth Riley, his widow for the WSIC to obtain them.