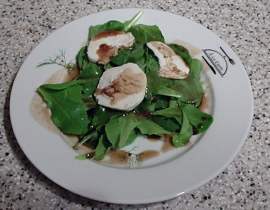 There is truely nothing to compare a fresh salad, just picked 30 minutes ago from your own garden. For the past couple of weeks I have been enjoying small almost micro salads from thinings. Recently this week I'm getting close to full salad.
I attack the three or so pots where I'm growing spinach, bibb lettuce and arugula with a pair of scissors and a salad plate. I try to leave 1 leaf on the plant so there is more to come back to later. Then after washing off the dirt and bugs, I throw on some goat cheese, shake on some balsamic vinager and olive oil, and sprinkle on some salt. The leaves are so delicate. Slightly crispy but definately not limp. It just makes me wish I dedicated more pots to salad.

Elsewhere in the garden things are progressing well. I am using fertilizer on a weekly basis, a first for me. But I figure the stuff in the pots, in the backyard, needs it. I'm using a fish emulsion and also a non-organic compound (not Miracle Gro- not that stuff is like crack for plants). The nasturtiums are all leafy and taking over various pots. The French Maragolds have just flowered. Everything else is going at a good clip. With all the greenery the backyard is looking kind of nice.