…you'll have a $5 crack ho standing in front of your half million dollar home.
History
Well the quality of the 1880 census microfilm at the MLK Washingtonia Division is near crap. Lots of scratches, so I didn't complete the last block I needed to do. I'll have to go back to the National Archives for a better copy. And finish it there. But between copy card troubles and the microfilm reader's outright refusal to print anything, I wandered over to the Hopkins maps and took a tons of pictures with the Palm so I can figure out which blocks were vacant and near vacant in 1887.
Real Estate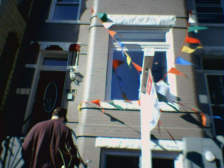 63 Quincy Pl NW (Eckington)
Price: $594,500
Bedrooms: 3 main/ 2 rental
Bathrooms: 2 main/ 1 rental
Fireplace: 1
Garage: Yes
Basement: Yes, rental unit
I had no intention of really looking at any houses this weekend. Yet I came across this house and looked at it anyway. Whoever did the reconstruction work they did a very good job. I mean if you are going to blow $600K, this looks like a decent buy. My travel companions really liked how the ductwork was hidden by (I'm not going to describe this right) the ceiling dropped down along all four sides of the room boxing in the middle where the ceiling fan/light hung. There was decent closet space and the house was well designed. Kudos to the Realtors who staged it by putting in some nice towels and other neat touches, along with plying visitors with wine.
The back had a tiny little space between the house and the garage. From the house one could go on the deck on top of the garage or go down and access the basement apartment. Or look at the HVAC thingies. The garage was decently sized, big enough to fit a normal sized car and store some things, or a Mini Cooper and have a work space, or a SUV and a bike.

The basement would be the kind of basement I'd want to rent, as soon as they add bars. Of course there was a security system so I guess bars aren't needed. One of the bedrooms was a bit oddly laid out, so it would make more sense as an office, but one could have a twin bed in it and it would be perfectly fine.
Crackhead Rant
If you hang out with a crackhead, I'm calling you a crackhead.
Anyway, a visitor/resident (I can't tell with the in & out traffic that house gets) was commenting in a voice loud enough to be heard clearly across the street, that people are too nosy, always starting something, and the area is turning white. Negro please, you haven't been in that house long enough to justify your old timer rant. The neighbors are alert and aware, among your crack buddies I guess that is considered nosy. Always starting something, yes, we are, and the something is trying to make the place a safer and better place to live, which I guess is incompatible with the whole crackhead lifestyle. (whispered) I see white people. Sorry, can't help you with your white people problem, as long as black folks keep selling their houses to white folks for obscene amounts of money (or enough crack to keep you and all your buddies high all year, maybe 2 years), you are gonna get more white people.
speaking of black folks selling…
Early Signs of Spring
You know Spring is coming when the Tax assessments come out and make people scream 'screw it, I'm selling!' Rumor has it that someone on the block has had it with the rising assessments and is gonna sell their house. A long time African American resident with strong family ties to the community, broken by the assessment. This is what gentrification does, raise housing prices, thus raising taxes and the homesteader exemption is a drop (plink) in the bucket, and driving residents to sell.