Well two Truxton Circle Houses had open houses today.
1403 New Jersey Avenue, NW

Price: $485,000
Bedrooms: 3
Bathrooms: 3.5
Fireplaces: none
Basement: yes
Parking: Street
The house is being sold "as is" but apparently has been renovated. Things do look new. New white carpets, new paint, new fridge, new. The basement is finished and could possibly a rental unit, but the separate door to the outside was kind of small. The basement unit is a very tiny studio apt. Very tiny. With no appliances. A positive thing was that this place had light, and lots of it. Looking at the promotional material it says that "offers presented Tuesday, January 18." Is that another way of saying let the bidding war begin?
23 N St, NW

Price: 459,900
Bedrooms: 3
Bathrooms: 2
Parking: Off Street & gated
Fireplaces: wood burning stove and fireplace like mantles
Buy. This. House.
This house has character. The good kind. The woodwork in this house is *gasp* amazing. It is one of those must sees, that you really must see because the pictures I took don't do any justice whatsoever.
When I first approached the house I was unimpressed. It was too close to the busy section where N meets that street of DEATH, New York Avenue. The front door seemed small too. Also from the street there was a lovely view of Covenant House and if you squint you'd see the New York Avenue metro station.
Inside it was a little better but the first floor is not the wow you floor.
With it's homey dining room
and small kitchen.

The second floor is.
The second floor is where the wood work shines and is all over the place and makes you say yes this place has character. Now the house is currently occupied so I didn't take a lot of pictures out of respect for the occupants.
There is this center room lined with large wood cabinets or doors.

I have dreamed of rooms like this. It is functional and pretty. In a Shaker sort of way. If it were on the first floor it would be better as a mud room, but it is just far too nice for mud. The floor if I can remember right is tile and is very nice. Light streams in from the couple of skylights in the ceiling and just bathes the upper floors making it all warm and wonderful on this frigid day.
I really liked the bedroom with the loft (below).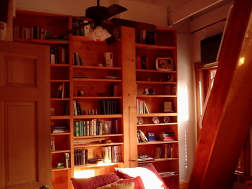 I am a sucker for wood bookshelves, even as a librarian I know wood is bad for books. But here, who cares, it's pretty. It's warm. In the corner the unique stairs takes you up to the loft where you can have a separate area for reading or gazing out the window.
This "as is" house is very distinct and definitely not cookie cutter. It has a lot of original character (the good kind). If houses must sell in the $400K range then this house is definitely worth it, or at least a look.