So just to get an idea to see if what I am seeing with the Black Homeowners of Truxton Circle is normal, or not, I am comparing them with white home owners.  I am looking at blocks that were over 90% white in 1950 but also in the same "red lined" zone, which was F1. I should explore that more. There is a lot I should do.
Anywho.
So over in Capital Hill we're going to look at James McCracken who according to the 1930 census was the head of household and owner of 219 E St SE. He worked as a steam engineer. Well according to the paperwork, his wife Barbara was the owner. His name didn't get on the property until 1944.
James Joseph McCracken was born July 1st, 1880 in Washington, DC. His parents might have been James and Mary McCracken of Ireland. "Appears" because a James McCracken appears twice in the 1900 census. Once with his parents and siblings on Maryland Ave SW working as a government clerk and again on the USCG Steamer Blake in Puerto Rico. Same birth date, birth place, same parental linage, and same address (for ships they list home address).
In 1916 he married Barbara E. Morgal, a dry goods clerk. They were in their 30s, she was a little older. It appears they had no children.
When the first World War draft came around in 1917-1918 he was living at 219 E St with his wife. The online records from the DC Recorder of Deeds starts around 1920, and so the first record is release for a loan Barbara McCracken took on in November 1919 from trustees Frank Johnson and J. Walter Stephenson.
In 1930 Barbara took on another loan, which she alone signed, on a document that acknowledged she was a married woman, with trustees Frank Johnson and William Church Jr. for the Mutual Building Association. The loan appears to have been for $1,500 (maybe $20,000 max).
In a June 1930 release for a loan with the Mutual Serial Building Association (idk if it was the same building assoc. but Frank Johnson is the trustee) they note Barbara McCracken was a married woman contracting as a separate estate.
The 1933 release for the 1930 loan is….interesting. Normally I just look to see which loan it is for, maybe an institutions name, but something caught my eye.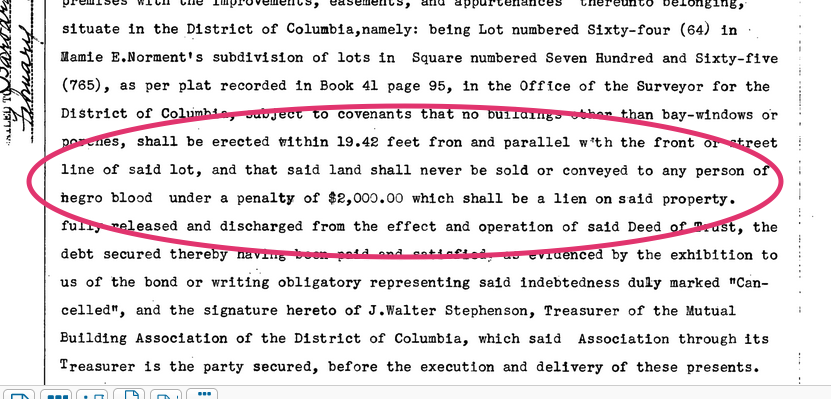 So….. if she sold the house to someone like me*, there would be a $2,000 lien on the property. Being that it was 1933, I chucked that number into the Inflation Calculator and that's $45,662.77 in today's money.  This forced me to look back at the 1930 loan doc and there it was buried on the 2nd page (a page I ignore). I currently live in a house that had a similar covenant or legalism attached to it. I'm the 1st Black person to own it. Okay back to Babs McCracken.
In 1944 Barbara does this thing that I've seen several of my Black Home Owners of Truxton Circle do when they want to get someone's name on the property. She transferred it into the name of someone, this someone being Etta H. Groff, who in the next document transfers it to Barbara and James McCracken.
And then nothing happens for 20 years.
James McCracken sold 219 E Street SE on August 4, 1964 to J. Harry Brogden. The deed notes that Barbara died on June 10, 1963. James died several years later in 1969.
*I may be pale because I haven't seen the sun since 1995, but I am 100% African American.