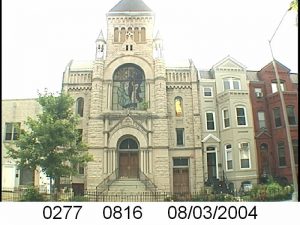 Okay, let's do a Shaw Church for this series of churches in the 1957 Church Survey. A survey that has never been done since, because a later "survey" done in the 1970s or 80s was very uninformative compared to this one. My last church was Metropolitan AME, and before that Eckington Presbyterian, so I figured I bring the posts back to the part of the Northwest Urban Renewal Area that later became Shaw.
Mt. Gilead still stands at 1625 13th St NW. According to their history website, their church building was bought at auction from Trinity Baptist Church in 1932. The church (people) itself was a mission group of about 75 people who started this church. As far as I can tell from their site, it is still an African American church.
CS 7 Mt Gilead Baptist by Mm Inshaw on Scribd
As you can probably see from the document, there isn't much of a description there. It has publically available information about the building, and isn't as informative as the previous excerpts.