We've looked at Carrie Walker before, so we'll look again. That earlier post was for Property Owners of Truxton Circle, where I look at property owners, regardless of race. Also that previous post went over the loans and the 1950 sale to Lawrence C. and Rosa A. Diggs.
This post will focus on the genealogy of Carrie G. Walker.
Carrie G. Walker was the daughter of John W. Walker and Carrie Johnson, born January 1879. Both Carries have also been Caroline. John worked as a government messenger. In 1900 they lived at 216 R St NW, John was still a messenger and daughter Carrie G. was a public school substitute teacher. In 1910 their address changed to 146 R St NW, where John was still a messenger at the age of 58 and Carrie G., was a clerk in a government office. In 1940 when Carrie was 59, she too was a messenger for the Federal government. She died, according to an Ancestry family tree, April 3, 1950.
But if she died in 1950, how could she sell her home in 1951? I took a look at the deed, and something is a little suspect.
I looked at the other documents that would have had her signature, but those just have her name typed out. She was a substitute teacher and a government clerk, she should have been literate enough to sign her name.
I needed to double check her death date as the family tree did not point to any evidence. After poking around the Library of Congress' Chronicling America site, I found her death notice in the April 5, 1950 Evening Star: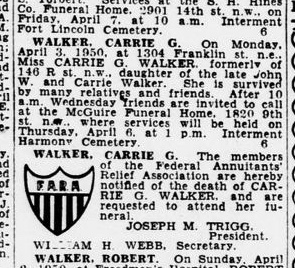 She was very much dead when she supposedly sold 146 R St NW. It seems she wasn't living there, as she died at 1304 Franklin St NE, near or in Woodridge. It doesn't matter. That lot no longer exists.