Currently 244 P St NW is the Phanelson Memorial Apostolic Church. I took a quick look at the 1957 Church Survey and this structure was not a church then. But back in 1920 (or maybe before) it was the home of Frederick B. Turner, an African American waiter, and his family.
Looking at Sq. 553, lot 99 records it looks like Frederick Booker Turner and his wife Irene Amelia (nee Malone) borrowed money in 1921, 1924, 1932, and 1947 using their home.
In 1920, Frederick Turner lived at 244 P St NW with his wife, lived with their daughter Geneva V., sons Leon Lovelace and Leonard Frederick, and his brother I Garland Turner. In 1930, the family household included Mr. Turner's mother Annie Shade Turner, a new son Frederick (Jr?) and daughter Antionette Mae (side note- she wound up marrying 4 times by 1978). By 1930 it appears his brother moved on. Another, very slight change, Mr. Turner went from being a waiter at a hotel to being a waiter at a restaurant.
Mr. Turner died in December of 1966 according to the Social Security death index, somewhere in the 20010 zip code. Mrs. Turner died April 13, 1978. He seems to disappear after the 1930 census. He pops up in 1941, and is still a waiter, but we get the name of the restaurant where he worked.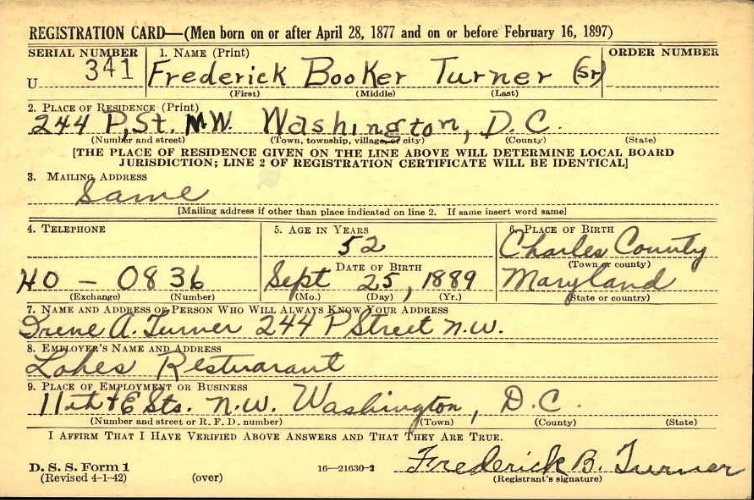 In 1947, the Turners sold the property to Ernest Clinton Winfield, a Black native Washingtonian, after paying back their debt to the Washington Loan and Trust Company. Mr. Winfield borrowed $7,500.00 from the same institution when he purchased the property.