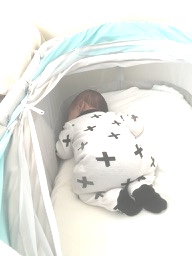 I was going to wait until November, National Adoption month, to write about our adoption experience. But a retweet of something I saw with a long string of comments that do not reflect nor resemble our experience  prompted me to post this.
We've recently finalized the adoption of our son. It was a closed adoption per the birthmother's wishes. And even though it is closed, we still need to write letters and send 5-6 photos of Destruct-O-baby every 3-4 months for the next couple of years. We were interviewed by a birthmother who wanted an open adoption, however, she didn't choose us. But if she did there would have been more in person visits or more letters, depending on what she wanted.
The adoption itself did not cost $20-$30K. Rounding up less than $10K went to the agency for all the administrative and facilitation stuff. Less than $2K went to our lawyer, and I have no idea how much we spent to take the CPR classes, get the background checks, renovate the house for the inspections and home study. Those higher prices are international adoption prices. Destruct-O-baby is from the land of Mary (which means he'll drive in the bike lane & speed through yellow and red lights).
Adoption has changed over the years. My sister in law (the one who drained her mother's retirement fund in a year) was adopted from Korea. According to the Help, his parents were told to show up to the airport and they were handed a 2 year old, who became his sister. They did not have to take the classes. They were a school teacher and factory worker, so I'll guess it wasn't that expensive. We had to read books, write essays, take classes for several weeks and go through a lot more stuff before we could even get on a waiting list.
What helped us a lot, was the network of other parents we knew (mostly but not exclusively, from the Help's church) who also went through the same agency. It was great when trying to figure out what to do, there was someone I could email or call. These include families who engage in fostering, foster to adopt, and respite care, separate from the infant adoption.
There are three parts of the adoption triangle, the birth families, the adopting families, and the adoptee. I can only speak about my part. Because of the agency's national scope and functions other than domestic infant adoption they've attracted some vitriol, and it's hard not to take some of those nasty comments personally.