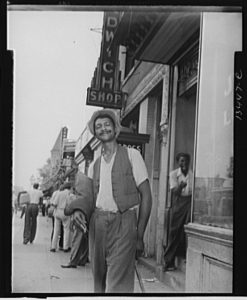 So I was bopping around the Library of Congress site, looking to tell one story. Well, because I'm too lazy to figure out how to search properly (I'm very disappointed in myself as a librarian) I came across a few photos of life in 1942 around the area of 7th and Florida Avenue NW. As you know Florida Avenue tends to make up the northern border of Shaw, or what was to become Shaw.  This prior to the urban renews plans and prior to Shaw being named Shaw as a neighborhood.
Anyway….
These photos were taken by the noted African American photographer Gordon Parks. He like other notable photographers like Dorothea Lange, worked for the Farm Security Administration. As you can see and as you know, this area is not a farm, little matter…. old timey pictures, yay!
If you look in the reflection of the window with the hats, I believe you can see the building that houses Halfsmoke, maybe. I know there was a football stadium over there where Howard University Hospital sits, and those are the stadium lights you can see in the reflection as well. However the turret is not exactly the same so, I'm not sure.
From these photographs I can see hanging out on the 1900 block of 7th Street is a historic activity. However the panhandlers of the 1940s were a heck of a lot better dressed than the hangers out and the odd panhandler found between Florida Avenue and S Street these days. They wore hats in the 40s. And they sold hats on 7th Street. At this moment I don't think you can get a decent  hat on 7th, unless you have one delivered to the Amazon pickup locker at the 7-11 on 7th and Rhode Island.
At some point I'll actually get around to posting the things I meant to post. Until then, enjoy.