Renovation #2 is the renovation I am most proud of. It is the renovation where I went down to the bricks and the joists. I replaced the floors, changed up some of the radiators, and completely changed the floorplan. Since it was such a big project, I'm dividing this into a couple of posts.
Let's start with the permits. I was able to get the permit myself, with my own drawings. The poor Sikh gentleman at DCRA was patient with me, pointed out things I needed to correct and I think he really wished I had used an architect. But I sort of did. Ira, my architect neighbor, had given me a book on how to draw up plans and advice. This was 2007 so no Google Sketch-up, I hand drew the plans. So I got permit, and it cost me $1000. Just for the permit. All the permits are up on SCOUT, so anyone can look at them.
Then there was the money. I vaguely remember budgeting $87K for the project. It wound up costing around $100K. I had a sweet loan with Countrywide where the 30 year loan had a very low interest rate for the time because of the DC Housing Finance office. But for this project I refinanced with a bank and wound up with a higher rate. My mortgage went from $600 a month to over a thousand. It was worth it. I may explore in another post why I can dare to try  to sell a house I bought for $108K for $750K.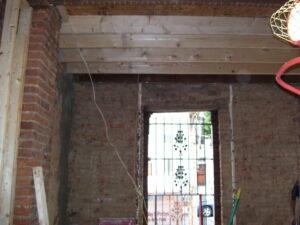 With any large project like this there were unfortunate discoveries made when all was demolished away. One scary thing were joists that at some point in the past had been hacked away to make room for plumbing. Or joists rotted from leaks in the bathroom. I had told our Realtor we didn't mess with the joists, but looking back at construction photos, those were replaced. Another scary thing was the big hole in the load bearing wall, hidden by a false wall. Anyway, I fixed, or had things fixed and made decisions that made the costs creep up.
People would say old houses had good bones. Because of unhappy discoveries the contractor found hidden behind the walls and ceilings, that saying I found to be an annoying lie. You don't know until you go down to the bricks and joists. The bones are now fine.