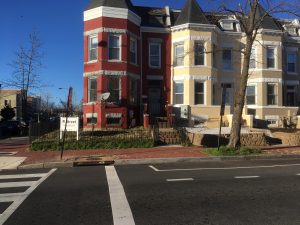 Okey dokey. The fugly, and I'm gonna call it fugly, 'cause it was a plan of ugly of freaking magnitude, plan of replacing the top level of 319 R St NW with a meh 3rd floor and an out of proportion dunce hat is no more. The Historic Landmark application, killed that.
So the developers played chicken, lost and looks like they're gonna try to recoup their money by selling it, unimproved, for $1.05 million. Unimproved. I don't think the plans are worth hundreds of thousands of dollars. But that's just my opinion.
So what's the plan? Go down.
There will be three floors but you'll have to go down, into the basement. Have they dug the basement? I don't think so, so there is no guarantee of anything. If they haven't, you could hit water. Anywho. The top floor is a rooftop deck of sorts, because you can't change the top anymore. Because of historic stuff. If they just left the damned turret alone, like 210 P Street NW, they would have had more freedom to put on a 3rd floor.
But, noooooo. They had to plan to destroy the original turret or threaten to tear down the building. Now they expect someone to pay over a million dollars for the mess they made.