It was something from a DCist post about the Hillcrest neighborhood I noticed. It seems the people of Hillcrest have been peppered with offers to sell their homes to developers. If those offers come in the form of post cards and yellow letters like the ones below, they aren't special. I get these offers almost every week. Sometimes I get phone calls.


I have two rentals, bought for the price of a new car, in addition to our primary home. So every week, I will get some letter or postcard asking if I want to sell. These things are called yellow letters. Note, they are yellow. They come from people looking to buy houses for developer investors. Most are not a scam, but they aren't going to offer you the amount of money you'd probably get if you were to sell with a Realtor. They are for people who want to sell a house quickly without doing anything (fixing things).
I don't feel pestered by these mail in inquires. They are like any other service being offered that I don't want. Don't want a credit card. Don't want your cable package. When it is an offer on my primary residence, I do feel slightly insulted, because, yes, the outside could use some sprucing up. I think they figured I'd want to sell because I haven't gotten to fixing some things. Those things are on the 2019 docket of expensive house crap to do. I replaced the roof this year so the 2018 budget is blown.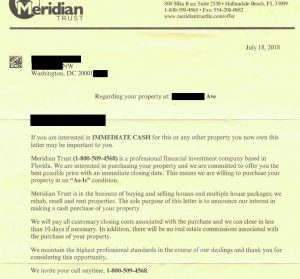 So say you've gotten several of these yellow letters, what do you do? Are they serious offers? Well if you have no desire to sell, toss them in recycling and give it nary a thought. If you're thinking about selling, but you want top dollar and you have time and are willing to repair and repaint, toss them in the recycling bin and hire a Realtor. But if you just want to get rid of it (bad tenants, repairs you can't afford, desperately need to fund your mother in law's stay in a nursing home) sure give the number on the letter or post card you got a call. Just be aware you're going to be offered a price below market.  It doesn't matter that the house next door to you sold for a million dollars, the people offering to buy your house are not going to offer a million dollars.