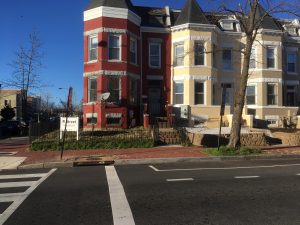 So what's new? A sign.
I attended the Bates Area Civic Association (BACA) meeting on Monday and a neighbor from that block said she spoke with the owner/developer. That person informed her that they would be keeping the place a single family home. Even though they purchased the property back in June 2015 for $750K, they could break even, or profit, by giving it a super interior renovation and exterior restoration.
For those of you just joining us in this story, here's the quick summary. Back in the 00s a Korean church bought the property to do inner city mission work. Then they sold it to a developer, who then proposed to knock off the turret and build a 3rd story in order to make a 2 unit condo. They hinted that if they were not allowed to do so they would demolish the whole building, as a matter of right. They played chicken, and lost. A hundred years prior, developer Harry Wardman built almost all the buildings on the block 319 R sat on, and this was the reasoning that was used to make the whole square a National Historic Landmark. The landmark status prevented the developers from making any exterior changes. This probably could have been prevented if the turret was respected or if the architects who drew the second proposed drawing incorporated the turret, instead of plopping on a dunce hat on the proposed 3rd floor. It had been done before around the corner on 4th St where a 3rd floor was added and the problem didn't go past BZA.
Considering Harry Wardman built all those townhouses as 2 story flats, I don't see why it cannot become a 2 unit building. The building has a tad over 2,000 square feet, so dividing it into half wouldn't create two too tiny units. But there are costs to dividing up a single unit structure (character preservation vs affordable housing, 'nother topic for another day) and it appears a nicely (not impressive but nice) renovated corner house like 319 R St NW would sell for 1.something million dollars. One point four if I were a betting woman. The house across the street for $1.25 mil is under contract, and 319 conceivably has 1 parking pad and those are worth gold!
So we'll see what happens and keep an eye on it.