Dammit. I really had hoped this would be better. Maybe they'll change things up or find their audience or something, because I was mildly disappointed with the new Spark restaurant that took the place of the old Engine 12 Firehouse restaurant.
I had high, maybe too high, hopes for the new restaurant in the old space, when I saw bone marrow on the menu. The last time I had bone marrow was at Eat the Rich (RIP) paired with some jam. It was soooo good. I had those same expectations when coming to Spark.
Okay, let me start off with what I liked. It was bone marrow. There was nice crusty bread. There was a little of a pickle side to cut the fat of the marrow. There was a nice funky tool which to use to scoop out the marrow. There was salt at the table so I could season bland tasting marrow. Yeah, that's my one complaint, it was bland tasting. Maybe it was because the marrow was 'smoked' and not braised or whatever the heck Eat the Rich did. It lacked a richness, and just tasted like fat. I'm fine with paying $16 for a plate of bones and bread, if it is yummy bones and bread.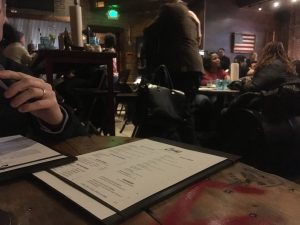 My main reason for getting a sitter and making Spark 12 our date night outing were the bones. Ignoring the bone marrow, everything else was meh, 'alright'. The people at the next table were loud and even after they left, we still had to speak with a raised voice to hear each other. The service seemed a little slow, but since they'd only been open about a week, that was forgivable. The Old Fashioned I ordered was fair tastewise but packed one hell of a boozy punch. The Help ordered a chocolate atomic fireball non-alcoholic drink. It was like a chocolate manhattan with the cinnamon spice candy along the rim and at the bottom of the drink. I thought the chocolate tasted watery and the strong cinnamon was a little overwhelming. If I hadn't had a big lunch I might have been hungry for more, and if I were, we would have left to check out Big Bear or ANXO.
The experience left us a little sad. We really want the space to succeed. The previous restaurant had mediocre food. This, although they just opened and there is a ton of room for improvement, is also mediocre. This would be a great restaurant if they could just get the food right and in this neighborhood we expect more out of a sit down restaurant. A friend pointed out that if they wanted Caribbean, (Spark has some island dishes) they would go to Jam Doung down the block. This neighborhood also hosts Red Hen, Bacio, and DCity Smokehouse, places known for their great tasting food.
Maybe the problem is that I just got a super mediocre meal. The Help, my date, seemed content with his beef patties, but he's easy to please. I haven't written Spark off, I'll try them again and hope for better. But next time we're bringing the kid and skipping the sitter.