Just to cover my bases I'm going to check the Recorder of Deeds and see what else the Washington Sanitary Improvement Company (WSIC) owned around here.
This image is deceptive.
There were more than 7 properties.
Let's look at the earliest document, document #192402020030 a release, which means a debt was paid. It is dated February 2, 1924 and John B. Larner, surviving trustee, is the grantor, the one who held the debt. WSIC, along with the Washington Loan and Trust Company, George H. Harris, George M. Kober and George M. Sternberg, were the grantees, the ones who paid the debt. The document were for a whole list of properties on Square 509, which is juuuuust outside of Truxton Circle. They were for lots 170-181.
The next document was #1931017623 a 1931 deed. It is for one property, Square 552 lot 25 in Truxton Circle. Today it would be several properties with some facing the 100 blocks of Q and Bates Streets NW. But Sq. 552 has been covered and will get covered going forward, so I'll move on.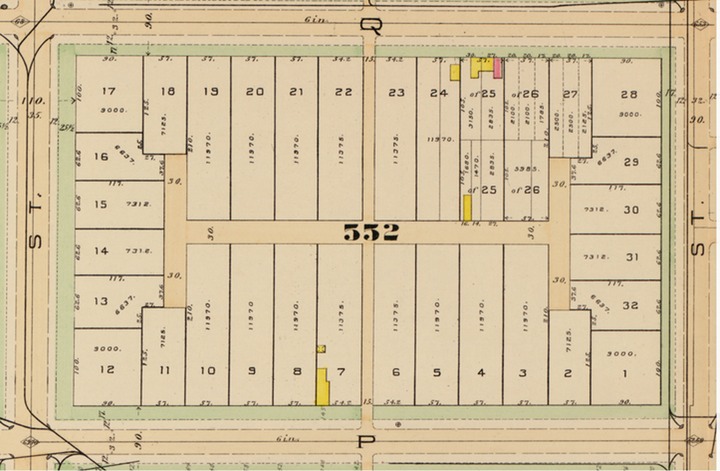 Next are two 1947 deeds, document #1947005806 for Sq. 5867 and lots 3 and 868, and doc #1947005805 for about 37 lots on that same square. No clue where that is, besides east of the river in Southeast. Poking around it appears that square no longer exists.
In 1950 it appears WSIC sold properties in documents 1950024326 and 1950024327. These were lots on Squares 245, 4048, 4052, 509, E0546, 552, 615, 617, 651, 654, and 674. There were three TC squares in there and they were  552, 615, and 617.
Okay next time, we will look at Square 617 in addition to 552 and 615.